iNSIDE EUROPE and iNCANTATO CONCERT TOURS are comprised of a team of dedicated, caring travel experts whose mission it is to turn travel dreams into memories. Our EUROPE iNSIDERS are matchmakers between the travelers, the destinations, cultures and people. Our team is international, multi-lingual and one of the best traveled in the travel industry. iNSIDE EUROPE takes a collaborative approach to travel, bringing together professionals from many walks of life, who share their knowledge alongside their passion for traveling. Our local ambassadors love their respective countries and want to share the very best of them with you.
ABOUT iNSIDE EUROPE
iNSIDE EUROPE crafts one-of-a-kind experiences for like-minded people.
We are matchmakers between our travelers and the destinations they seek to explore. Every journey we create for you and yours is unique and personalized.
There is no set agenda! Each itinerary is dynamic and personalized for the actual travelers and their interests.
With iNSIDE EUROPE, travel dreams become a reality through authentic and meaningful experiences that create memories to last a lifetime.
Why travel as usual when you can "write" your own story, experience places you want to see and do so with your friends, families or colleagues.
THE iNSIDE EUROPE DIFFERENCE
Not everyone travels the same way. iNSIDE EUROPE is a boutique tour company for affinity travel to Europe. We offer dynamic, customized, personalized itineraries for people seeking to travel better together, so you spend less time organizing and more time dreaming about the destinations you will experience next with friends or family.
Our experiences cannot be found in a travel catalog. Each of our itineraries is unique and created to the individual wishes of your affinity group.
Would you like to meet your favorite Michelin-star chefs and try award-winning menus? Visit places and stay in resorts you read about in Conde Nast Traveler? Maybe take a pottery class with artist Adrian Navarro, Chair of the Royal Arts Academy, in his workshop in Cuenca, Spain? Is singing with your choir in the Sistine Chapel in the Vatican on the top of your bucket list? How about joining authentic food, wine and beer festivals in Portugal, Germany or Italy? Skiing in the Alps or playing golfing on links courses in Ireland and Scotland? Your bucket list sets the tone.
STORY
iNSIDE EUROPE was launched in 2007 as iNCANTATO by Sandra Weinacht and Ted Keppler with a multinational team both in the US and Europe and a new, innovative and collaborative approach to group travel. Since then, this team of passionate insiders, comprised of travel experts from all walks of life, has taken more than 5,000 clients to destinations like Italy, Germany, Spain, France, Ireland, the UK, and Portugal: from big cities to tiny villages, along the road less traveled.

Our team has first-hand knowledge of the countries, regions, cities, even neighborhoods and is well versed in fulfilling even the most unusual request with diligence and care. iNSIDE EUROPE is the umbrella company to iNCANTATO CONCERT TOURS, iNSIDE GERMANY and iNSIDE EUROPE BEER TOURS.

Our Europe Insiders are a dedicated, international team who are multicultural, multilingual and well traveled. iNSIDE EUROPE is based in the U.S. with offices in Los Angeles, California, and greater Charlotte, North Carolina, as well as offices and representatives across Europe.
UNIQUE APPROACH
iNSIDE EUROPE offers more than just the standard European itinerary. While you will still get to climb the Eiffel Tower if you like, there is so much more we can organize for our travelers: journeys that reflect your own interests and passions. Our extensive knowledge of Europe ensures we bring more to the table than you will ever find in a guide book. With us, you will be a traveler and not just a tourist.
Our specialty is catering to affinity groups and people with common interests such as friends traveling together, multi-generational family experiences, foodie explorers, choirs/performers, company outings and Catholic pilgrimages. While the majority of our itineraries are created for groups of 10 or more travelers, we can also help you with smaller size requests in-house or through our preferred partners, like Nonstop Travel, and selected travel experts in the US and Canada.

We also pride ourselves on our culinary experiences that showcase the best of what each country's cuisine has to offer. We share the flavors of your destinations through never-ending culinary temptations, like food truck stops, local specialty tastings at vineyards and farms, or visiting our favorite chefs. With iNSIDE EUROPE BEER TOURS, we offer experiences just for beer lovers, and we can do the same for wine or olive oil or a combination of any or all.
iNSIDE EUROPE creates authentic, one-of-a-kind travel experience in Central, Eastern, and Western Europe. We are in direct contact with all providers which means we do not outsource, subcontract or re-package. It is important to us to undertake regular quality control and site inspections. We work to accommodate all dietary restrictions or mobility issues and in addition to the team based in the USA, we have European insiders and support staff in every country you travel in.
Every journey is hosted by an experienced iNSIDE EUROPE host offering concierge services on the spot who is sensitive to the needs of the individual parties and adapts to all situations. We will not leave you standing out in the rain!
SIGNATURE FEATURES
What sets iNSIDE EUROPE further apart is our signature features or essential experiences for our travelers.
1. Sightsleeping- Our hotels, resorts, and villas are not just a place to sleep in. Whether it is a design hotel in a vibrant neighborhood, a beautifully modernized palace in the center of town or a castle perched high on the hills, you will feel a part of history and the local culture.
2. EPICurious Eats - We are foodies and take our travelers to the best food trucks, introduce our favorite chefs from home cooks to Michelin-starred celebrities or shop for edible souvenirs in the neighborhood deli. Indulge in authentic culinary experiences wherever you and as much as you want.
3. Travel better together – The iNSIDE EUROPE team caters to your needs from the start to the end of your journey. We have excellent local hosts and private guides, plus experienced drivers at your disposal. Throughout your journey, our team of Europe Insiders will welcome you to their cities, their world and connect the destination to you.
COLLABORATION
iNSIDE EUROPE believes in collaborations and partnerships for the benefit of our travelers. We have a trusted line-up of people, companies, and organizations that we work with. Collaboration and respect to local customs set us apart and foster the authenticity of the experience.
We work with national tourist boards like the German National Tourist Board, Agenzia Nazionale del Turismo (Italy, ENIT); Austrian National Tourist Office, Atout France, VisitBritain, Fáilte Ireland, Turismo de Portugal and Malta Tourism Authority, and regional tourist boards such as Bavaria Tourism, Visit Berlin, Munich Tourist Office, SouthWest Germany Tourism, Historic Highlights of Germany and many more.
In addition, for iNCANTATO CONCERTS TOURS, we partner with the U.S. Embassy's cultural offices abroad and their equivalent of the Canadian Embassy, as well as with renowned local cultural organizations and established music festivals. We are also affiliated with and supporters of ACDA and GALA Choruses. The iNSIDE EUROPE founders are members of Rotary International. They support local charities, especially in education in California, the Carolinas and abroad.
Sandra is also a member of the Deutscher Journalisten-Verband (German Journalist Association).
Sandra
Sandra has always traveled for a living and lives to travel - alone, with family and friends, with clients. In her free time, she likes to discover new places, ideally in a convertible and without speed limit! Growing up in a foodie family in southwest Germany meant regular Sunday lunches in France, pasta-skiing winter trips to the Swiss Alps and summer vacations all across Europe.
What started as freelance work for major European and American tour companies, soon turned into tour operating and product development of one-of-a-kind travel experiences for affinity groups. In 2007, together with Ted, iNSIDE EUROPE and iNCANTATO CONCERT TOURS were launched. Today, with a team of dedicated, skilled and caring professionals aka the EUROPEiNSIDER, Sandra and Ted are carving their own niche in this industry and continue to explore the wonderful, amazing, crazy, and ever-changing world we live in with and for their clients.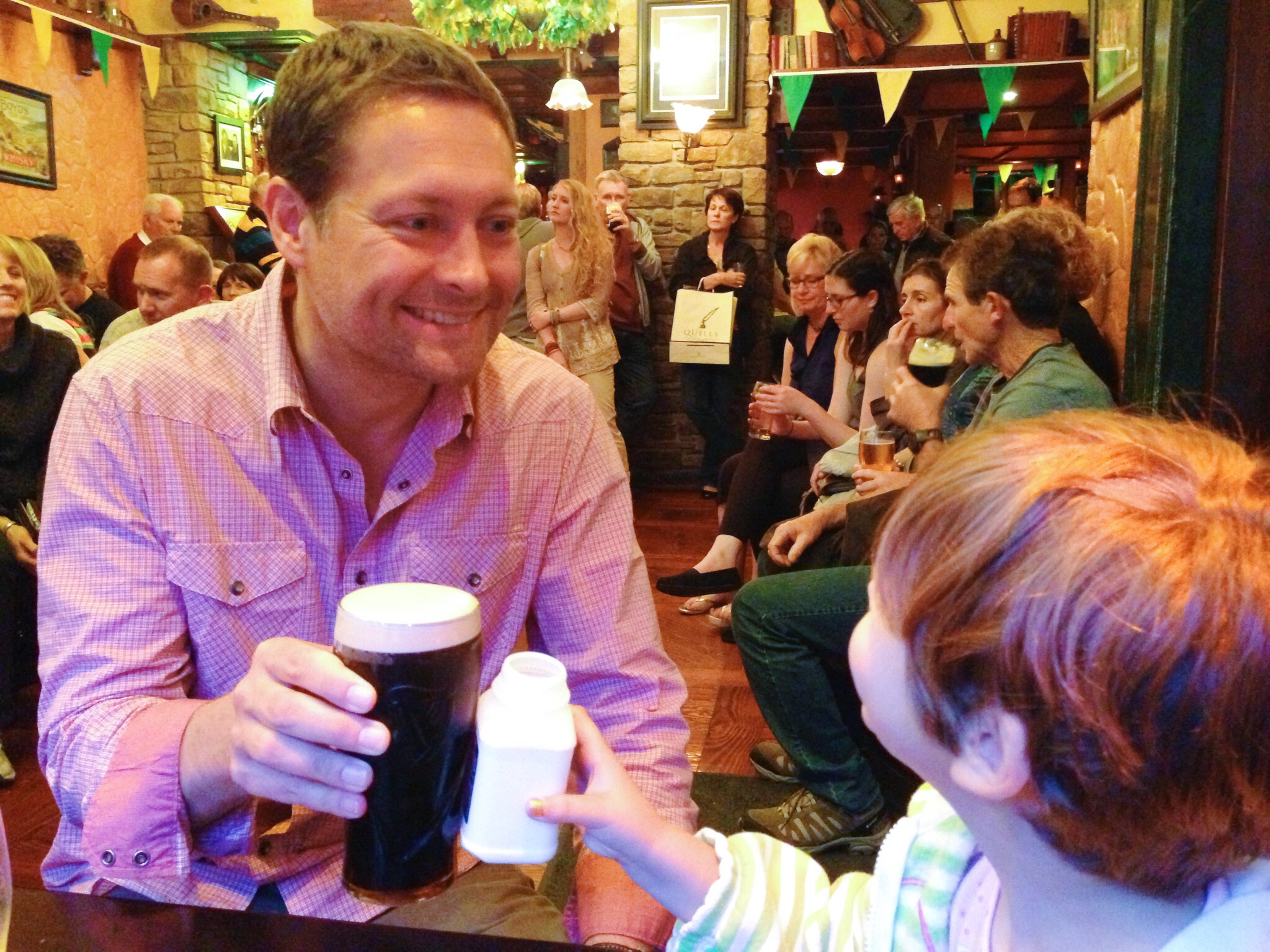 Ted
Born in Hoboken and raised in PA, Ted spent many of his summers and an entire high school year with his paternal grandparents in southern Germany and got to travel extensively across Europe and the United States. An avid traveler from a young age, it was an Oktoberfest tour in 2002 that changed his life forever. Fast forward five years, Ted and Sandra, the German gal he met in Munich, first started iNCANTATO CONCERT TOURS, and thereafter launched iNSIDE EUROPE in 2014.
Golfing on famous links courses in Ireland and walking on the Old Course at St. Andrews are treasured memories only surpassed by watching his daughter grow up and Penn State score a touchdown. This beer aficionado and IPA-lover has tasted over 1000 different beers in 30+ countries, with German beers being his favorite, but recent tasting tours to Belgium in cooperation with Visit Flanders make the Belgian-styles a close runner-up.
Jenna
As the Chief Organization Officer of iNSIDE EUROPE and iNCANTATO CONCERT TOURS, this former college basketball coach and professionally trained pastry chef has taken to the tourism industry with all her heart and soul, making sure that every traveler is taken care of beyond their expectations. For Jenna, there is no chaos that cannot be organized.
Jenna's can do attitude, while always maintaining her calm and having a smile on her face, is contagious to everyone in the team. On her first overseas adventure, Jenna experienced three European countries, surprisingly falling in love with Germany over France and Spain. There are many more countries on her bucket list that she can't wait to explore. She believes in celebrating life, and is always happy to end the day with a pint of beer or glass of cava - which makes her a perfect fit for this team!